*** Reminder: there are some on the home page as well

Handmade Pine Needle Baskets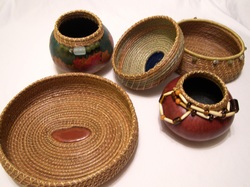 Each basket is made from pine needles that have been collected and dried. Then these are woven and/or coiled into a basket sometime with center of wood, agates, and other interesting materials.
The gourds are dried gourds often cut open, cleaned inside and out, sanded and then wood burner, carved or both. Once they have their design on them they are dyed, painted and embellished.

Each piece is unique.


---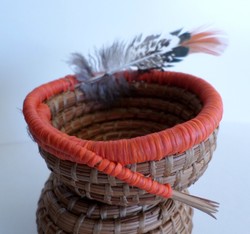 Small Pine Needle basket with orange rimmed coil art. Price: $45.00

---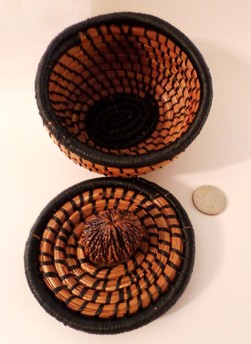 Small Pine Needle Basket with lid. Lid has a walnut handle. Price: $65.00


---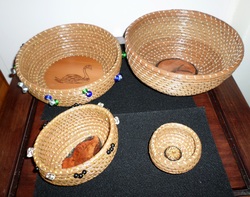 ---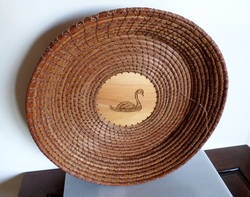 "The Swan" is a large basket with a laser cut wood center. These wood centers are created by an artist in Alaska, whose name appears on each piece. Two different stitches were used to create this piece, a spiral center and then the side walls "v".

Price: $145.00 Sold

---
Blue on Blue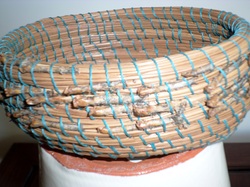 The blue agate center is enhanced by the blue linen thread used to coil the pine needles for this basket. Pine needles have been left in their natural state (with caps on) in the upper section of the basket.

Priced: $45.00 Sold

---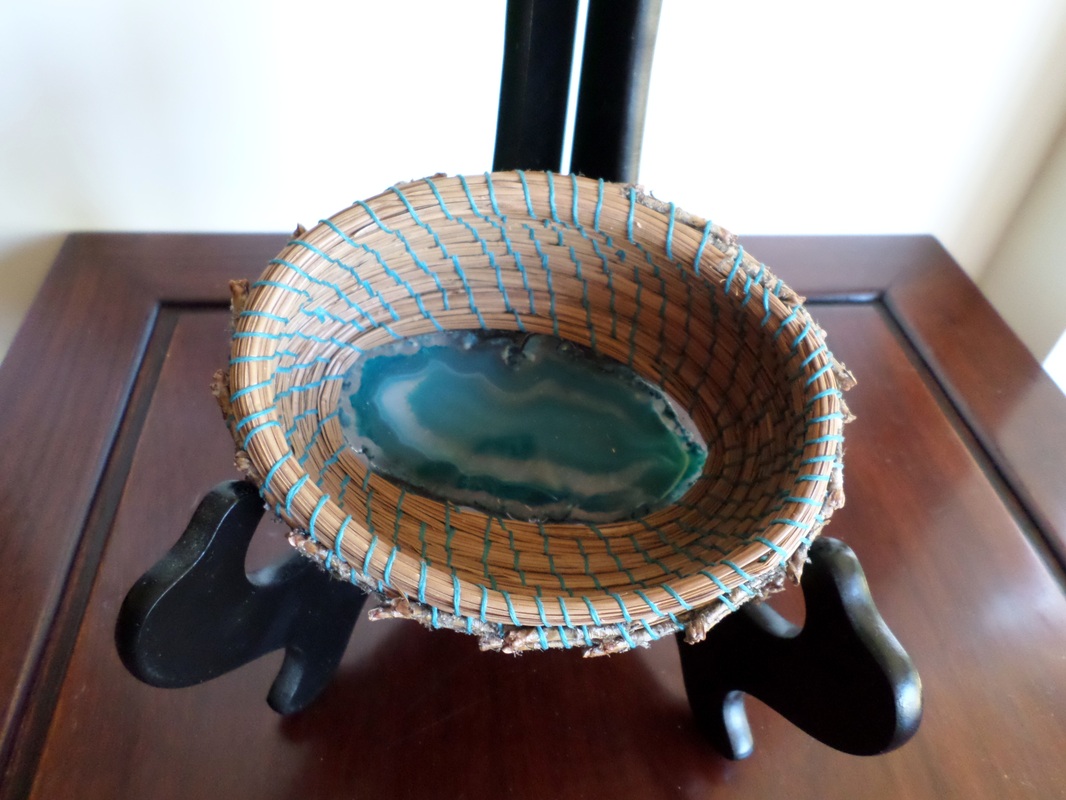 Kidney Bean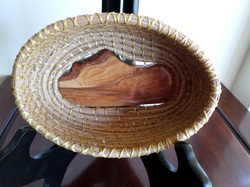 The kidney bean shaped wood center sets the stage for this medium size basket.

Price: $45.00

---
Basket Sculpture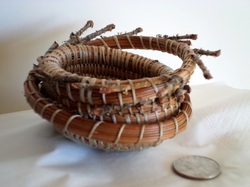 Pine Needle Sculptured Basket
This small sculptured basket has a solid coiled center, harking back to the California Native American baskets weavers. The art coiled rim has the pine needle caps framing the pieces.

Price: $50.00 Sold

---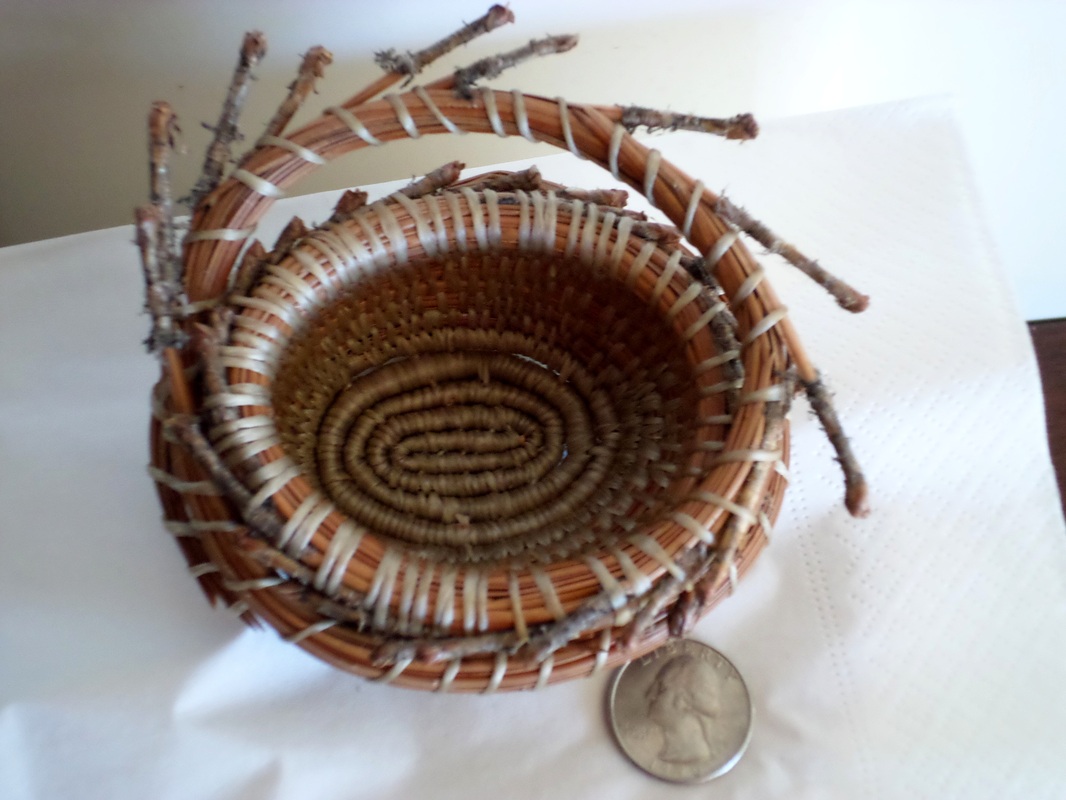 Wood Art Center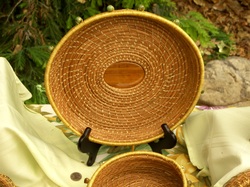 This Large Basket begins with a beautiful wood art center.
The rim is heavily coiled and embellished with green beads.

Price; $95.00 Sold

---
Rich wood art center is enhanced by the use of blue sinew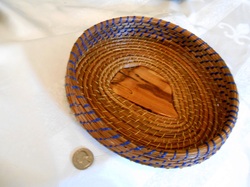 This medium size (approx. 8" wide, 8 1/2" long and 2" high) has beautiful wood art center. To enhanced with blue sinew.

Price $65.00

---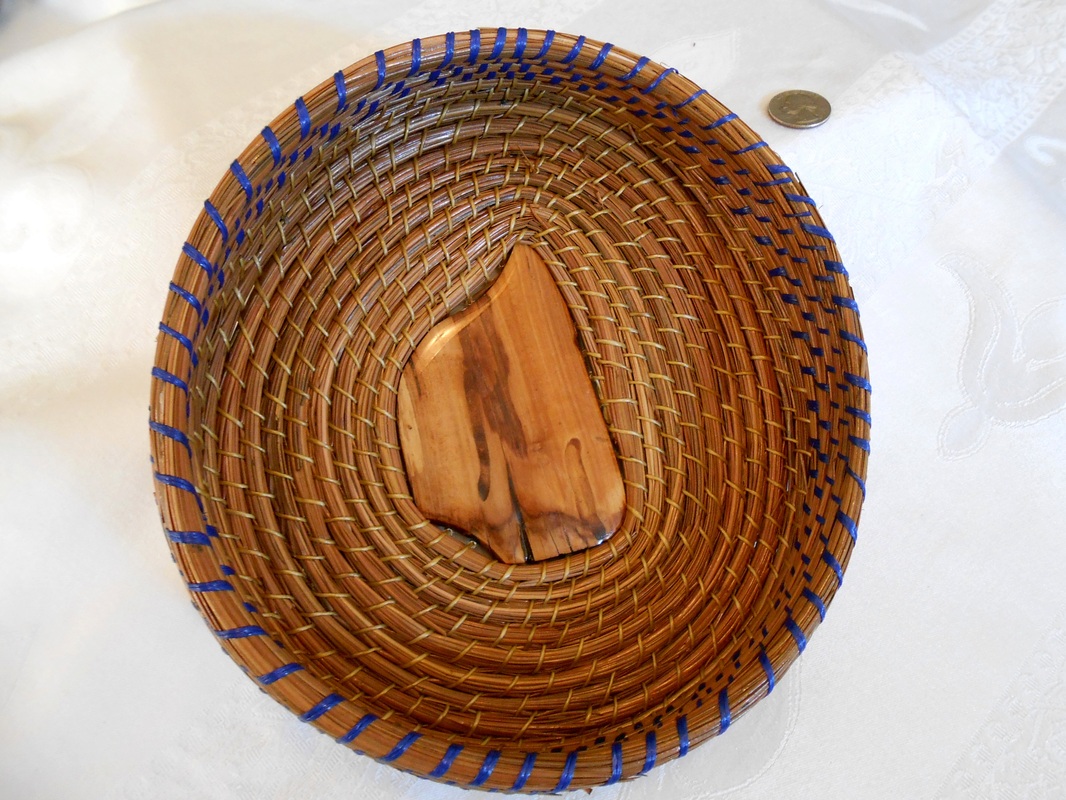 Part of a series these Eagle in Flight basket all have a Laser cut wood center designed and individually signed by their artist. Shelley has used these centers in her pine needle basketry. Hope you enjoy. There are other images used in the wood art center as well so look at those too.

Eagle in Flight Bowl of mixed colored pine needles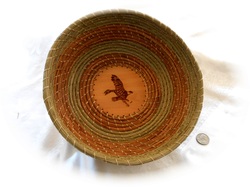 This Large bowl (10 1/2 " across x 3 1/2" tall. The wood art base is 4 1/2 " round) The Eagle in flight becomes the focal point of this basket that uses green and brown pine needles.

Priced: $150.00

---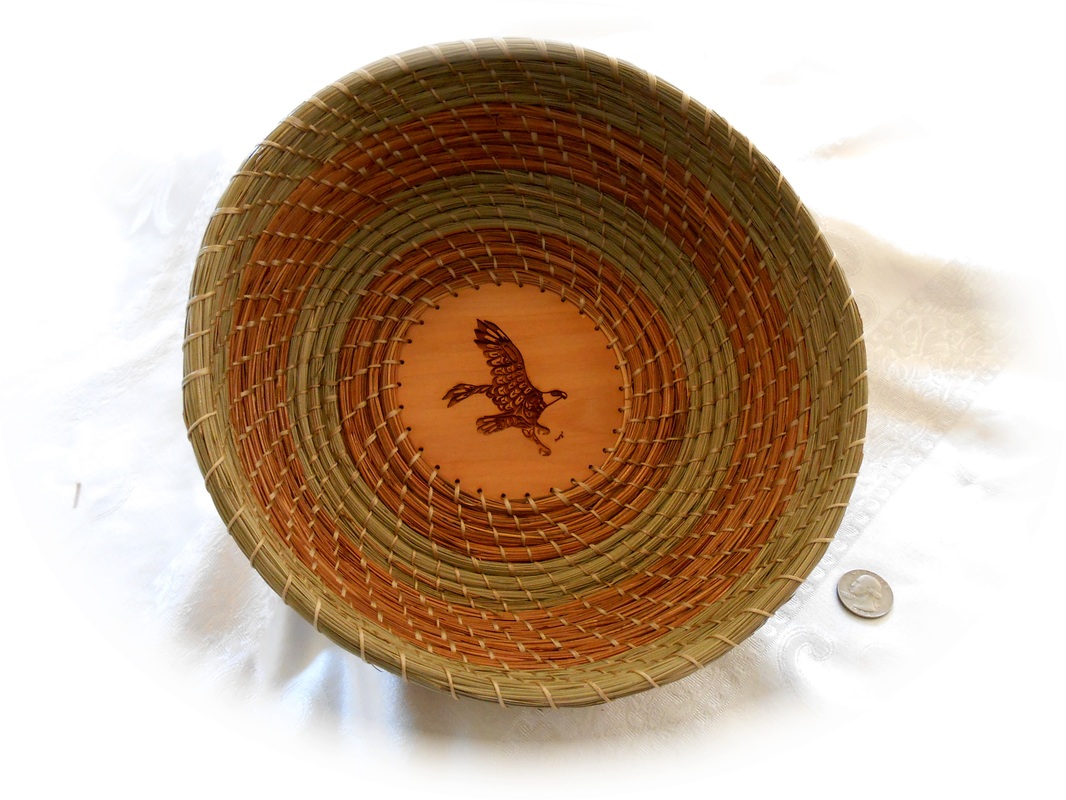 Eagle in Flight Plate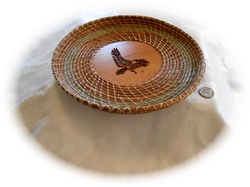 This large plate ( approx. 10 1/2" round x 1" high has a art wood center of approx. 5 1/2 " around) has a soaring eagle set in brown and green pine needles.

Price: $140.00

---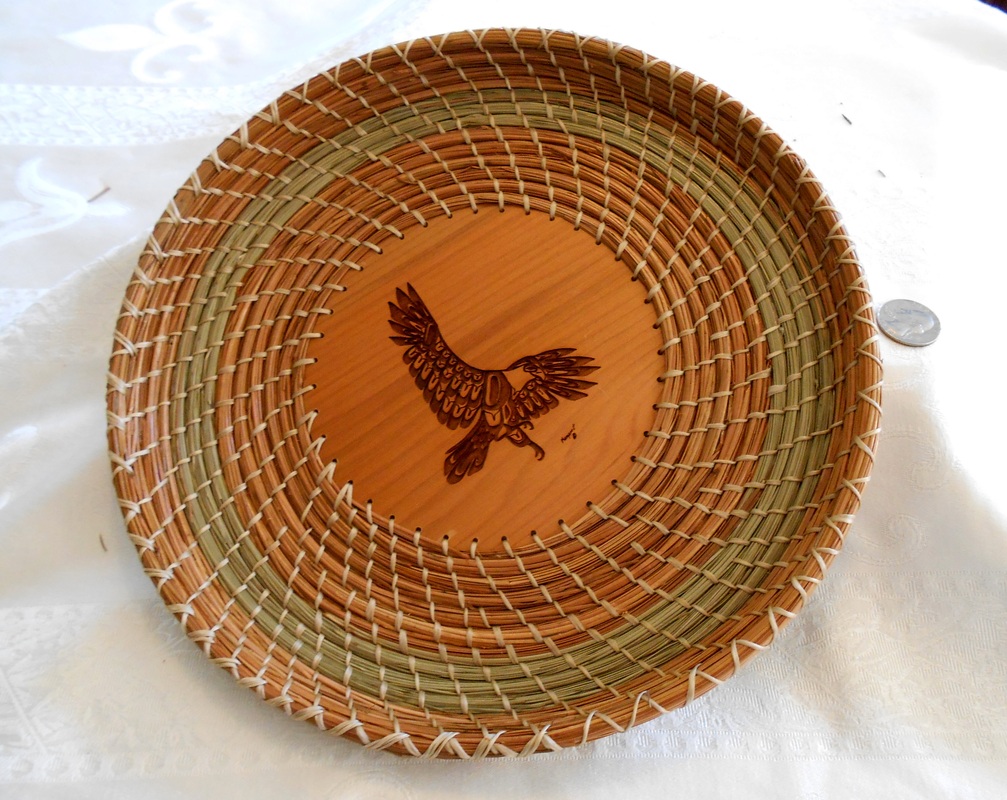 Eagle and the Moon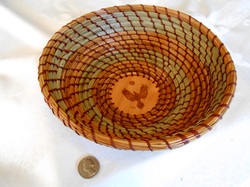 This medium sized bowl ( approx. 8" round x 3 1/2 " tall. Art wood base is approx. 3" round) has an Eagle in fight with the moon in the background. Red sinew (artificial) enhances the use of the green and brown pine needles.

Price: $75.00
Gifted

---
Medium Size Eagle in Flight

This bowl has a bit of a squared base, rather then rounding down it goes straight down on the sides, then in to the bottom art center. Medium sized (approx. 7" round x 3 " tall. Art wood center approx. 3" round)

Price: $75.00
Sold

---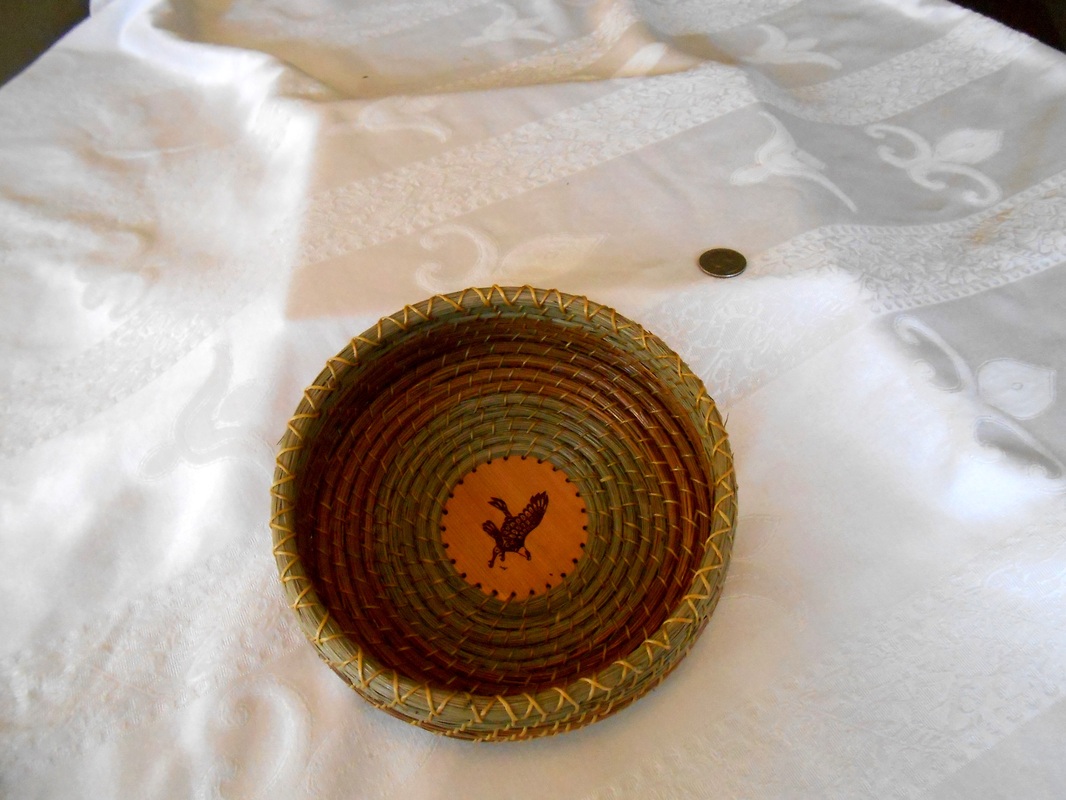 Winking Owl Basket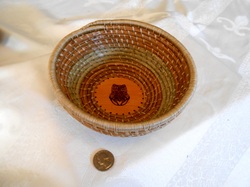 This medium small bi colored basket features a winking owl designed wood art center. Heavy sinew wrapped rim enhances the basket's appearance.
( approx. 6 1/2" round x 3" tall. Art wood center approx. 3" round)

Price $35.00

---
Native Design Face/Sun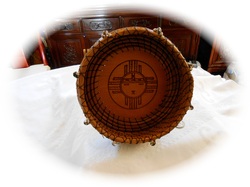 This wonderfully designed Native Face is the focus of this medium sized bowl. Enhanced with silver and glass beads on the rim is bowl measures approx. 7 1/2 " round x 2 1/4" tall. Art wood center is approx. 5" round.

Price: $50.00

---
Ammonite in Green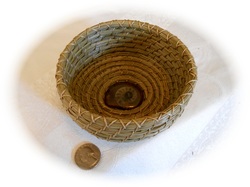 This fossilized snail creature or Ammonite is the focus of the all green pine needle basket Did you know that to get that green color the pine needle must be collected fresh and dried in the dark. If they come in connect with light before dried they will turn brown.

Price: $40.00 Sold

---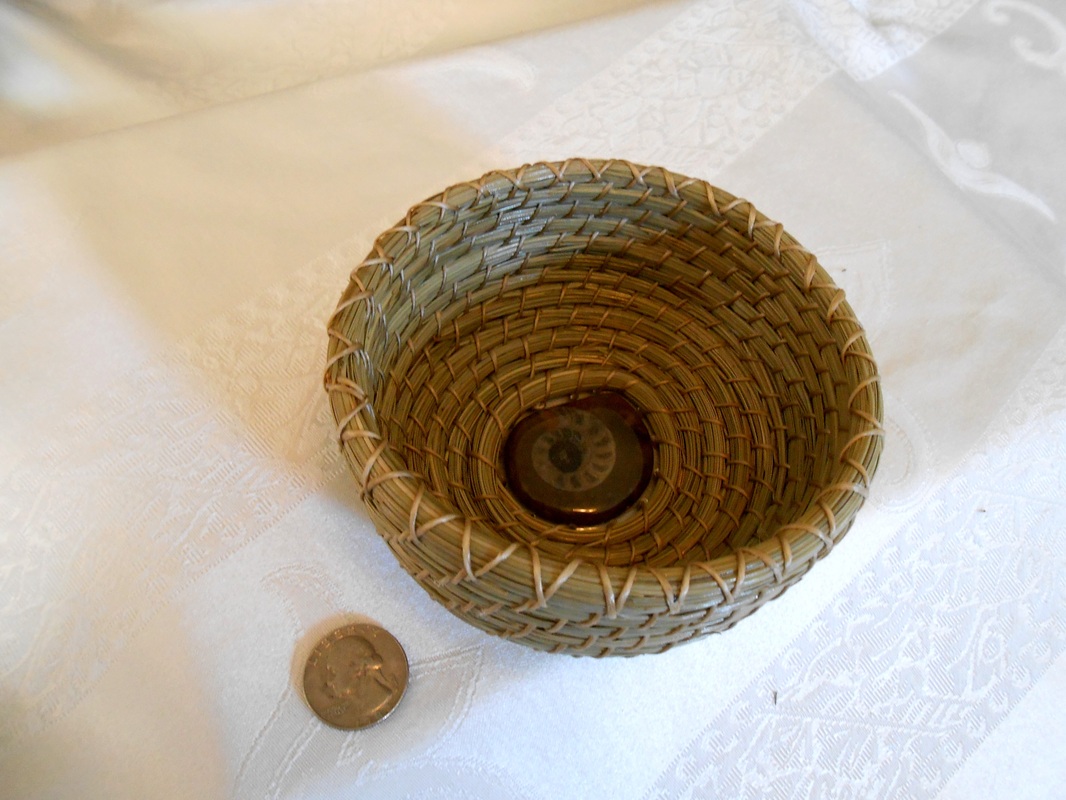 Silver Lining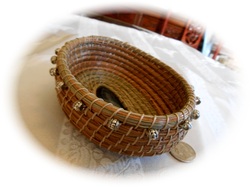 This basket has a Silver Lining. The dark agate center gets a lighten up with these silver beads circling it. Green and brown pine needles are used in this small basket. Approx. size: 4 1/2" x 6" x 2 " tall.

Price: $50.00

---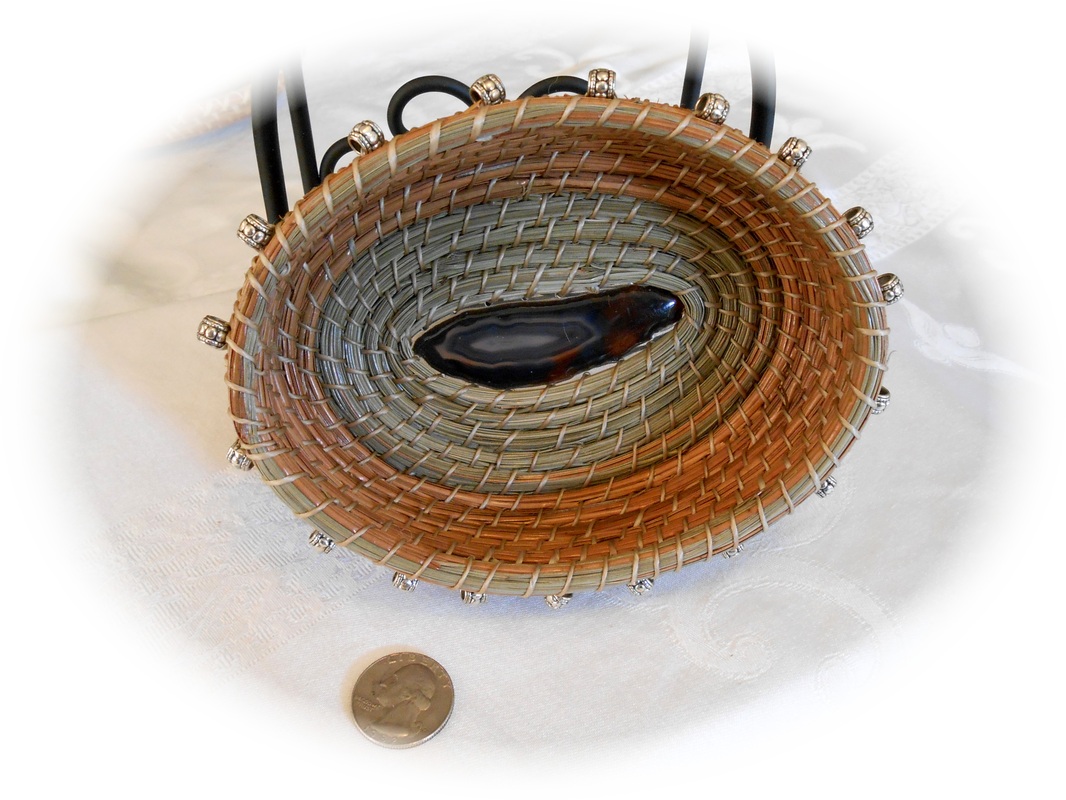 Amber Agate in green and brown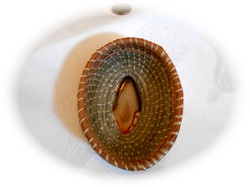 This Amber colored agate is the focal point of the small green and brown blended basket.
Pine needles were left unfinished so that pine smell is just wonderful.
Approx. size: 4 wide x 5 long x 1 1/2 " tall

Price: 30.00

---
Art coiled wood center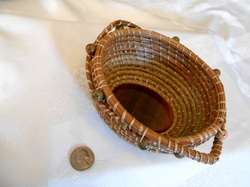 Medium sized bowl with art coiling and beaded rim. Wood art oval center has a rich color.
Approx. size: 5 1/4" x 6 " x 3" tall. Wood center approx. 3 1/4 x 2 1/4 "

Price $50.00

---
Green and Green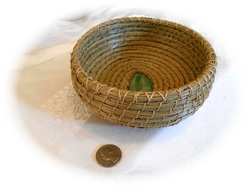 Wonderful green pine needles set off this greenish agate center. Medium sized approx. 6 x7 x 2" tall

Price: $55.00
Sold

---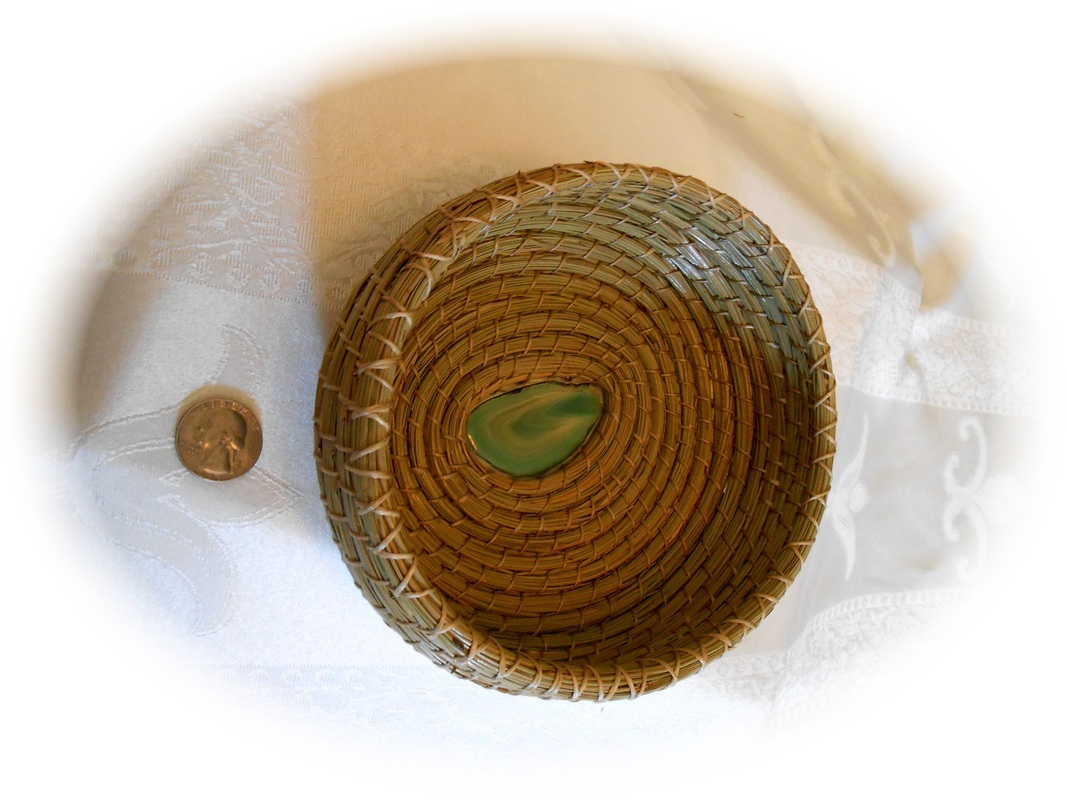 Small Bi-colored Basket with Coiled Center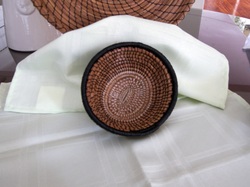 Small basket with a natural colored sinew coiled center, then black sinew up to a heavily coiled rim in black. Approx. 6 " round x 2 1/2" tall

Price: $30.00
Sold

---
Wood Art Center with extended rim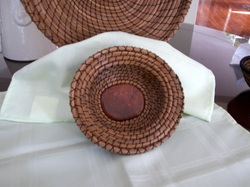 Small basket with beautiful wood art center. Black waxed linen thread adds to the piece as does the extended rim. Approx. 7" round x 2" tall.

Price: $45.00
Sold

---
Black and White Agate Center

The black and white agate create the center piece for this large basket. Black waxed linen thread add to the overall design.

Price: $60.00 Sold

---
Brown Agate Center and Beaded Basket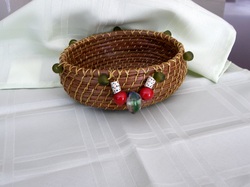 This small basket has a brown agate center. Pine needles are coiled and then on the rim frosted green glass beads with added. To embellish the basket more two small paper bead, two read beads and one glass bead. The red bead are not from Kenya, but the rest are from Kitengela Glass Studios in Kenya.

Price: $60.00

---