Welcome to My Art Studio web site. I create Pine Needle basketry, Gourd Art and Fused Glass Art.
Please explore the different media use by clicking on that page above or find a sampling of everything here on this page.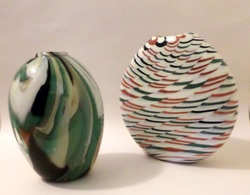 "J" vase
Fused and Blown Glass Vase


Optic with a Twist
Fused and Blown Glass
---
Just a few of the art pieces available at the Towns Burr Fine Art Gallery
Towns Burr located at 3609 Magnolia Blvd. Burbank,CA

Some of our Hand Blown by Steve Matousek and Fused Glass Art by Shelley Matousek


Recent baskets
For Magnolia Park Art Walk
Great fun at Magnolia Park Art walk. We had baskets, gourds and fused glass art for the crowds.


---

My passion for basketry developed from a love of recycling, using organic and California native materials in my art. Nature provides everything we need if we just open our eyes and minds to the creative process. Pine Needles can be collected, cleaned and used to make some amazing baskets. I love to recycle whenever I can and recycling the pine needles is often just the beginning of the process. Wood, agates, leather and even glass get a new life as art in many of my designs. Using California native materials, such as native pine, manzanita, pine cones, deer grasses in many of my works has developed into a search for native material that has brought with it many new adventures.

Many of my works of art are embellished with additional elements, such as carefully crafted glass beads I make myself or from Kenya's Kitengela Glass Studio (www.kitengela-glass.com). Kitengela is just an amazing place, check out their web site.

I recently expanded my work to include gourds as part of the basketry and as an art form in and of itself. Each piece is a one-of-a-kind item as the organic materials shape their final design. I find that the pine needles and the gourds will tell me what they want to do, more than me making them do what I want. Time and patience are a must. I love working with the gourds since they start out as Nature's works of art.
With gourds there are so many techniques that the joy comes from finding just the right one for that special gourd.
"Coil art" is what I call the coiling on a rim of a gourd that has just taken on a life of it's own and become it's own art. I find it beautiful and an adventure.

Each piece takes on a life of it's own. It's own adventure. I am just along for the ride, the love and the passion. Enjoy!
You can order these works of art for yourself or as gifts to be enjoyed for generations.

Shelley teaches classes and if you have a group of 15 or less you can arrange for her to come out for the day.
Cost is a per person materials fee and then a speakers fee for the day.

Contact Shelley If interested in having a class or if you would like to view more photos of a piece you are interested in purchasing.


---

New Gourd Art and Pine Needle Basketry by Shelley Matousek




I am always working on new projects, so check back often to see what's new. Working on several new baskets and gourds right now. Will post when finished.
Rich wood art center
This Large Basket begins with a beautiful wood art center. The rim is heavily coiled and embellished with green beads.


Check back often to see what's new!
If you are interested in a piece and would like to see more photos, different angles please contact me.